INTRODUCTION
On July 6, 2006, the Stillwater Town Board unanimously adopted the Town of Stillwater Comprehensive Plan. Adopting the plan, marks the completion of an effort, over an 18 month period, by volunteers representing all neighborhoods and stakeholders.  The adoption of the Plan will also signal the start of a new series of initiatives including the development of policies pertaining to Open Space Preservation & Protection, Parks, Recreation & Historic Preservation and adoption of Zoning amendments that will assist in enforcing the Plan.
The Superintendent of Schools as well as Village Mayor and Directors from each of the Town's departments also participated in the development of the Plan.
According to Supervisor Greg Connors, this document has been designed to provide officials representing all governmental entities, direction as to how the Town of Stillwater will grow and prosper over the next 25 years.
---
Town of Stillwater Comprehensive Plan Update & Saratoga Lake Waterfront Plan (2017)
We had a great turn out for our first Public Workshop for the Comprehensive Plan/Rte 9P Corridor on 11/14/17. At least 80% were from the Rte 9P area by the show of hands. Lindsay Zepko & Paul Cummings gave an excellent brief and a follow-up show and tell discussion format with great feedback. This was a excellent first start! The audience was told this was a lengthy process with more meetings to come in the future.
---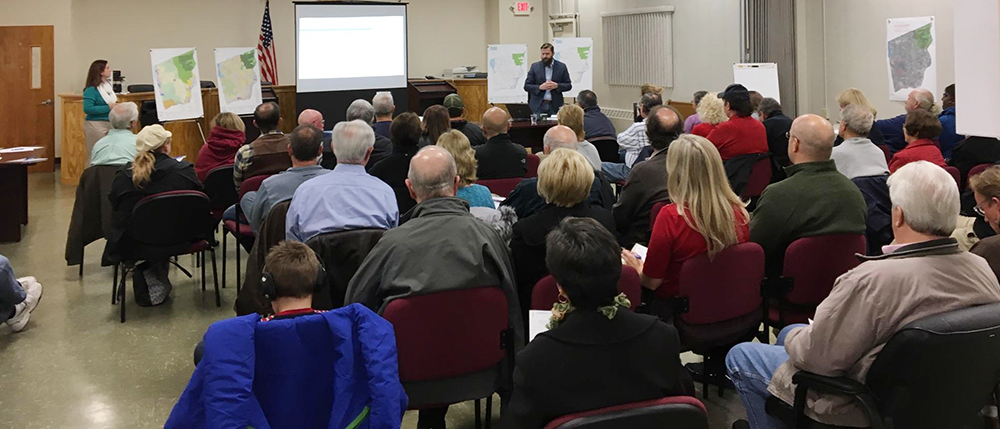 Planning Results:
Hudson River Waterfront & Route 4 Corridor Revitalization:
Focus growth around Village & along southern portion of Route 4 corridor
Focus conservation around Saratoga National Historical Park & natural and cultural resources
Provide infrastructure to facilitate desire development
Focus on smart growth development strategies
DOWNLOAD The Powerpoint Presentation (pdf) from 11/14/17 Public Workshop
---