Ray Cordani,
Commissioner of Police
Phone:
518.664.4611
x214
Fax:
 518.664.1338
Email:
1stsgt@stillwaterny.org
For Emergency Call 911
LOCATION:
1 Lansing Road
P.O. Box 700
Stillwater, NY 12170
Our Police Department is a part-time force consisting of 14 officers. They patrol our roadways daily and combine with the Saratoga County Sheriff and State Police forces to meet all our community needs. The Stillwater Police also provide security for the Stillwater Town Court. The Police Station is located on Lansing Rd. next to Highway Dept.
Commissioner of Police Ray Cordani as First Sergeant is the commanding officer for the department. He is a 28 year veteran of the department and has assumed the position of commanding officer in 2014 after the retirement of Chief Dennis Latham. His accomplishments over many years of service,no deposit slots stellar performances and dedication to service will insure our Police Force will continue it's proud traditions.
October is Domestic Violence Awareness Month:
Stillwater Police Department gives out cell phones to domestic violence victims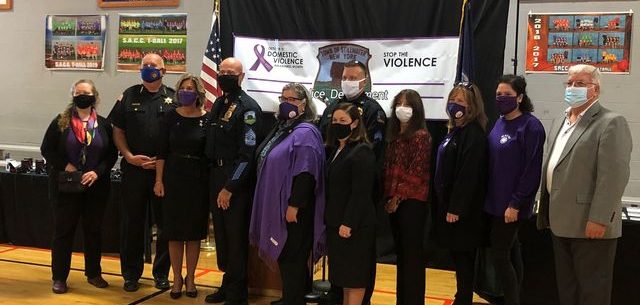 The Stillwater Police Department hosted their annual Domestic Violence Awareness Press Conference earlier this morning. The the event was in timing with October being National Domestic Violence Awareness Month.The goal was to shed a light on domestic violence, which has increased significantly in 2020. Donated cell phones were turned over to advocates this morning for distribution to victims that find themselves in violent relationships. These phones become lifelines. Over 6000 cell phones have been collected by the Stillwater Police since 2003.
Officials in attendance included NYS Senator Daphne Jordan, NYS Assemblywoman Carrie Woerner, Saratoga County District Attorney Karen Heggen, Saratoga County Sheriff Michael Zurlo, Town of Stillwater Supervisor Ed Kinowski, Town of Stillwater Councilwoman Ellen Vomacka, Village of Sillwater Deputy Mayor Judy Zeno, Executive Director of Wellspring Maggie Fronk, Executive Director of the Mechanicville Area Community Center Meg Quillinan. Police wish to thank Justin Macfarlane for offering the Stillwater Area Community Center as the venue, as well as Carmine DeCrescente III for providing refreshments.