Browns Beach is Officially CLOSED for the 2022 Season. See you in 2023!
Brown's Beach now has it's own dedicated line DURING OPERATIONAL SEASON for daily information. Call anytime between 10am – 7pm for questions, especially if there is questionable weather in the forecast. 518-528-1055 OR 518-528-1084
---
Location: 511 NY-9P, Saratoga Springs, NY 12866
Cost: 4 and under FREE
AGES: 5-11 $3 / 12+ $5 CASH ONLY! (Stillwater/Malta Residents & GlobalFoundries Employees can get a discount if they go to STILLWATER Town Hall for a beach pass)
BEACH PASS:
Ages 5-11: 10 visits for $20 (a $10 Savings)
Ages 12+ (adult): 10 visits for $40 (a $10 Savings)
Hours of Operation:
Memorial Day Weekend – Labor Day Weekend
Daily 10am – 7pm
On questionable weather days
please call our Town Clerk at 518.664.6148 x2
Activities:
Swimming
Kayaking
Canoeing
Features:
Large Tent Pavilion:

To Reserve Call:

Tony Panza at 518.306.4987
Kayak/canoe launch – Public
Boat Dock – Private to boat slip renters only
Vivi E Basta Eats: Snacks and Drinks
BOAT RENTAL: Vivi E Basta:

(518) 709-5463
Residents are welcome to bring their own cooler with food and beverages. Please NO GLASS! We ask that you leave your furry friends home!
---
For more information on Vivi E Basta Rentals please visit: www.viviebastarentals.com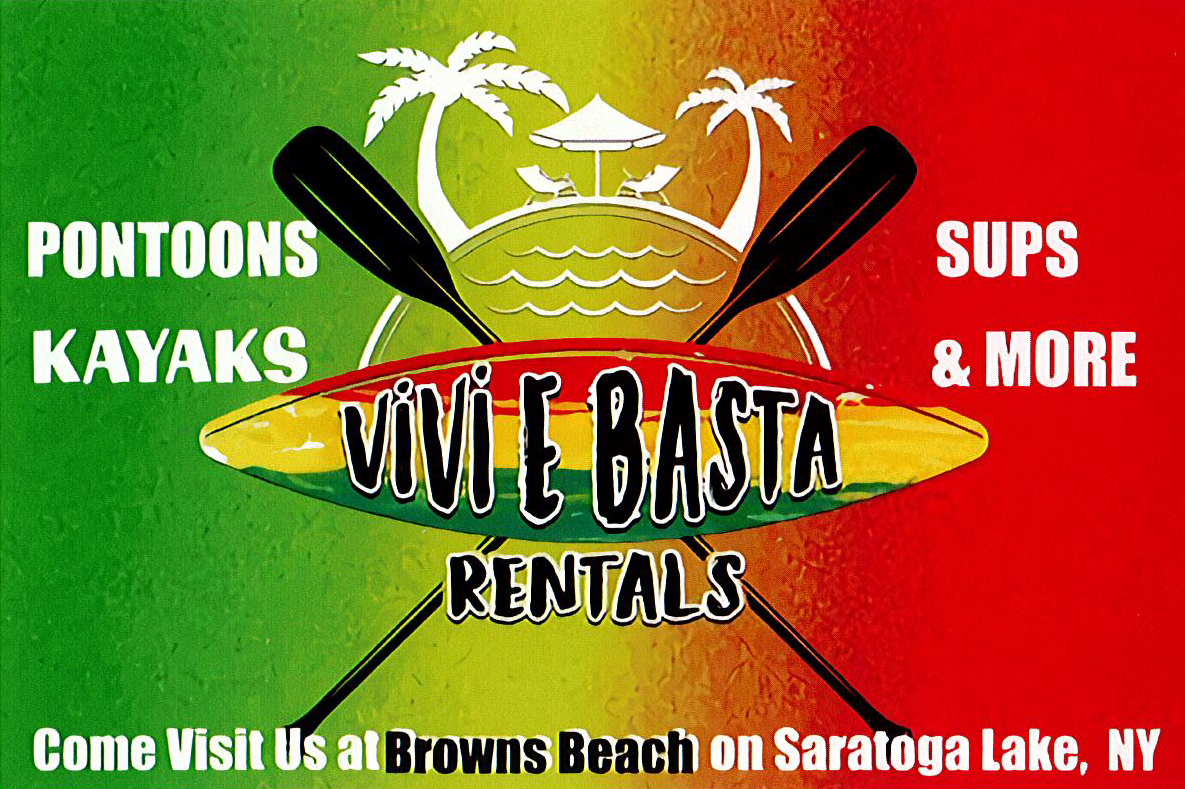 ---
MARINA: We are no longer accepting waitlist people for dock slips. We currently have an estimated 15-20 year wait for those on the list. If you have any questions please email: tbrown@stillwaterny.org or call Tiara at 518-664-6148 x202
---
Interested in working as a gate attendant for the 2023 season and you are 16 years or older, please contact Ellen Vomacka at evomacka@stillwaterny.org
DOWNLOAD a job application here
Interested in working as a life guard for the 2023 season and you are 16 years or older, please contact Sue Cunningham at suecunningham@stillwaterny.org
---
Check out our Brown's Beach Swag with our official logo!
Beach Towel: $18
Frisbees: $2
Tote Bags: $15
Drink Koozies: $2 (various colors)
Drawstring Bags: $6 (various colors)
Sunglasses: 2 for $3 (various colors)
T-Shirts Youth: $10
T-Shirts Adult: $12
Tank Tops: $15
*All items inclusive of tax. Items can be purchased at the Town Hall during off season and at the Pony Paddock during seasonal hours.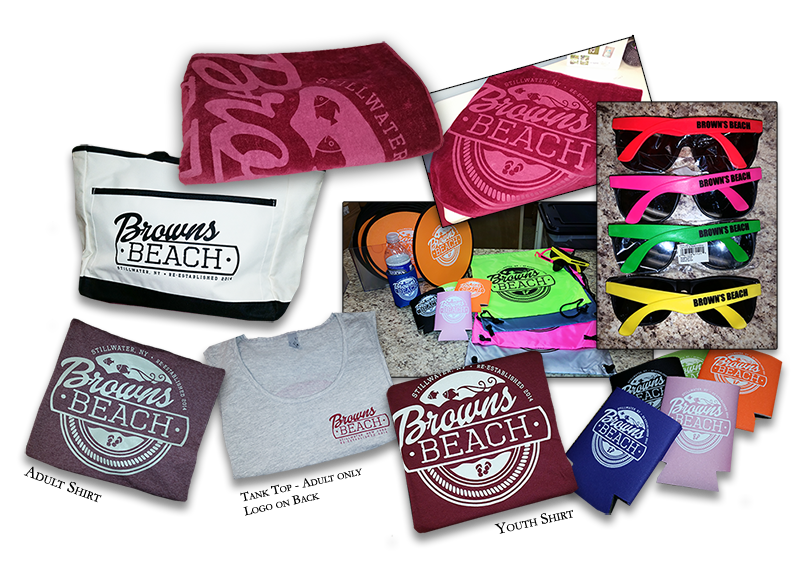 ---
Brown's Beach Marina – Private docks will open 5/23/23. The gas tank will be functional on 5/28/23
A message from our Manager, Bob Morris:  Over thirty years ago I started working on boats & docks for my grandfather, Bob Morris, the original owner of Brown's Beach for decades.  Now, I am happy to return to work on the lake as the new Brown's Beach Marina Manager for the Town of Stillwater. I look forward to working with you to insure a relaxing, enjoyable summer on Saratoga Lake.  
---
Brown's Marina is a PRIVATE Marina. There is NO public launching and NO docking any vessels, unless you have a current slip rental (includes PWC). Currently, we have a waitlist of over 300 that started back in 2016 when Menneto's ran the marina for the town. We are no longer accepting names for our wait list.
---